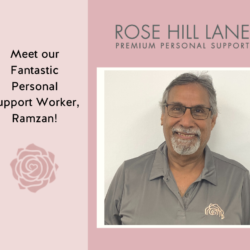 A valuable member of our team for 2 years, Ramzan seeks to build engagement and long lasting connections with our clientele. One of Ramzan's success stories recalls when he supported a client with dementia and was able to develop a strong bond and friendship. Ramzan found that our client began to remember him and their favourite activities whenever he would visit.
Ramzan enjoys the outdoors, exercising and encouraging individuals to stay active! He stays fit by running, walking and leading regular workouts with older adults.
In addition to managing a diverse client calendar Ramzan, like all Rose Hill Lane Personal Support Workers has been trained in The Alzheimer's Meaningful Activities Program and continues to safely provide care to Niagara Region's Alzheimer's Respite Program.