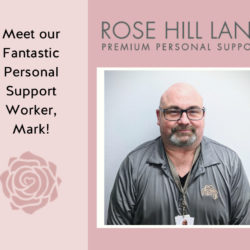 Meet Mark, a vibrant member of the Rose Hill Lane team! With long, dark winter nights, many of us may begin to feel down or not like our usual selves. As the days get shorter and the nights get longer, seasons can play a large role in our moods and energy levels.
Mark understands that clients may be feeling less engaged and motivated during the winter months and actively works at finding new and exciting ways to brighten up their days!
Some uplifting activities may be playing board games or cards, watching movies, playing the piano or taking care of plants.
When the weather permits, going for a walk or doing some exercises in the fresh air are a great way to change your environment and feel connected with the world outside your home.