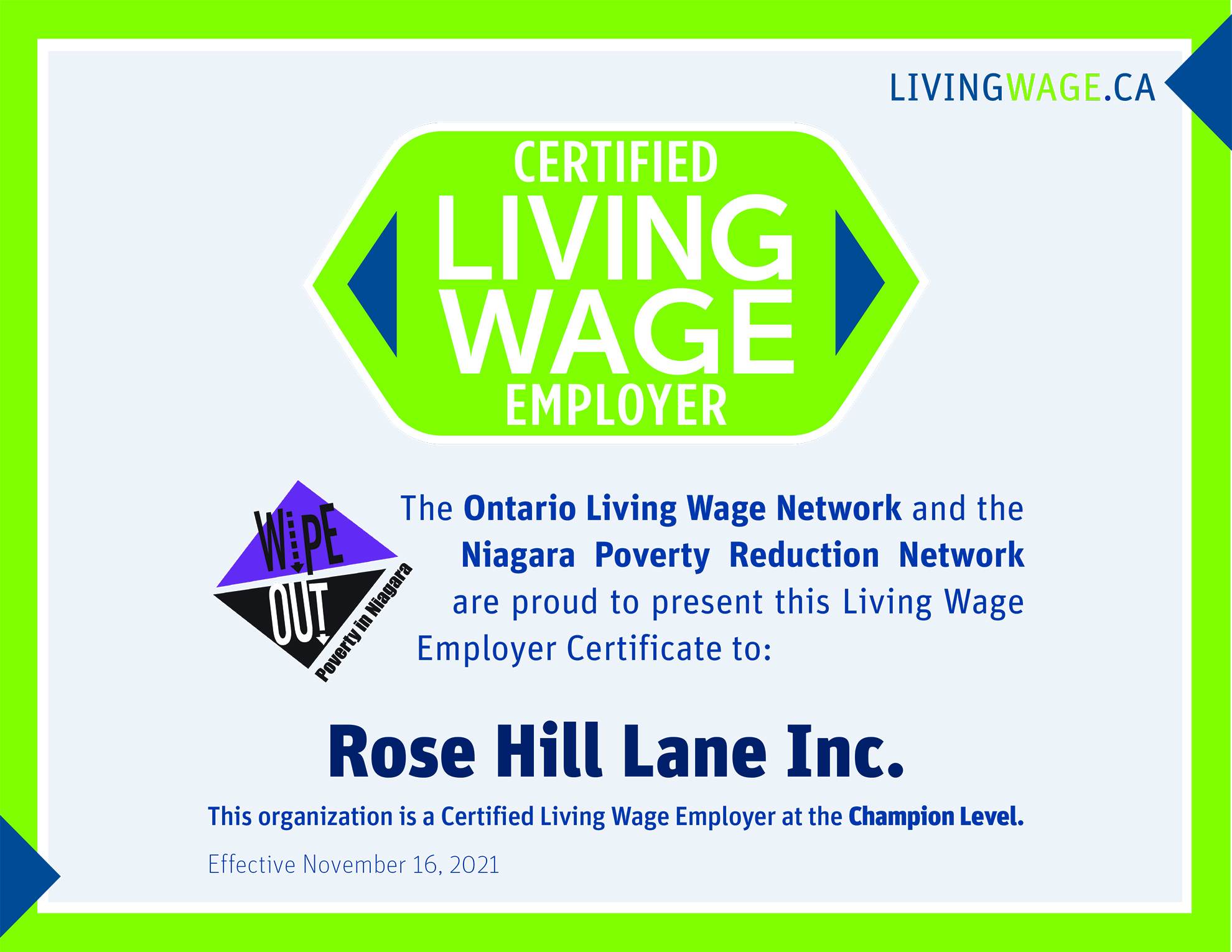 Rose Hill Lane recently achieved certification with the Ontario Living Wage Network. Our approach since Rose Hill Lane began offering services has been to honour our workers by investing in them in a variety of ways. In the early days it was certainly a struggle to establish a business and we committed to raising the wages as much as we could and invested in our workers in other ways. We developed organic training and development, rewards and recognition and performance feedback. Over the years, we have continued to raise wages on an annual basis to ensure our workers have a foundation to live the life they want. There was only exception year that we could not be proactive, and that was during the first year of COVID when business continuity became unpredictable. However, we are proud to note that we did not terminate or lay off a single employee due to COVID, but instead pivoted our offering to the institutional long term care community that was in desperate need to safeguard their vulnerable residents.
As we entered our 6th year of business in 2021, we felt confident that we could participate in the Living Wage program and were pleased to find that our philosophy on wages brought us very close to the established living wage for the Niagara Region. We addressed any minor gaps that did exist and are looking forward to ensuring annual alignment with the Living Wage for Niagara Region.
Most of our workers are Personal Support Workers (PSWs). Prior to COVID many people had no idea what a PSW was or that they even existed. PSWs are an important part of the circle care and while are more often found in the elder care community, they are also critical caregivers in many aspects of healthcare. Our workers are focused on providing care to the vulnerable and aging community and mostly in their place of residence, whether it be their own home, a senior's community, a long-term care or hospital facility, and often in a palliative situation. PSWs work hard, make no mistake about it. As a trained and still active PSW myself, I know this to be true. PSWs provide all aspects of personal care and often act as the eyes, hands, legs, feet and even cognitive aspects of the clients they serve. And they do this while providing dignity, compassion, kindness and a sharing of human respect and value to the client they are serving. In many ways, PSWs are a lifeline for our clients and a connection to a world that is slipping away as the damages of aging take over one's life. PSWs are there late at night when confusion and fear set in due to dementia, loneliness or other conditions. And often PSWs are the last person one will see as they pass. In those moments, PSWs are found holding their client's hand, singing a memorable song or offering comforting words and silently sobbing as their client passes.
For this and so much more, we are proud to be an accredited employer with the Ontario Living Wage Network. And we don't intend to stop here. We will continue to invest in our workers and help them do their work with greater confidence and safety, and we will provide financial reward and recognition through annual and targeted programs. And we will do so with gratitude, tremendous respect and awe for the commitment they have for the often overlooked and vulnerable elderly in our communities.
Please take a moment to learn more about Personal Support Workers and how they impact our communities. And to learn more about the Ontario Living Wage Network, please visit www.ontariolivingwage.ca