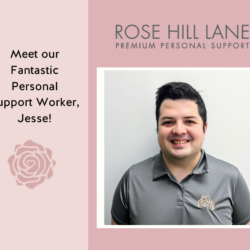 Jesse has been a PSW (Personal Support Worker) for nearly 2 years, and has a dedicated interest in helping and caring for others. He has a passion and commitment to healthcare and is considering nursing as a long term career goal!
When Jesse is assisting clients, he spends time getting to know them through daily activities such as exercising, chatting with them about their life, hearing about their families and sharing special moments.
Jesse is thankful that he and his family are in good health and that he can do a job that he truly enjoys and finds rewarding.