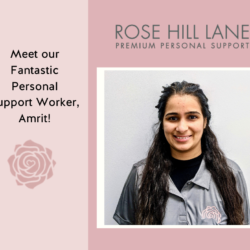 Amrit has been a PSW (Personal Support Worker) for over 4 years. Originally from India, Amrit chose to immigrate to Canada to change her profession. When determining careers, Amrit knew that she wanted to be in a profession where she could help and provide proper care for her others.
One of Amrit's success stories recalls a client that had difficulty communicating with their support staff and would often shy away from interactions. Over time and with much patience, Amrit was able to make the client feel more comfortable by relating to them and sharing stories. As their relationship developed, the client would often ask to see photos of India and hear stories about life in another country.
When spending time with clients, Amrit assists them in their daily activities, jogs their memories by asking them to recall memories, enjoying a cup of tea and even singing together!